Testimonials from Clients
Our two large, beautiful commissioned canvases arrived as promised, by Lucie on time, for our anniversary! They were packaged with a lot of loving care for the long trip from British Columbia to Arizona.
This commissioned work was something Lucie had not done before. Our home is a black, white and gray Art Deco home and I only wanted those colors in the paintings. She made it all so easy and possible. She listened, she guided, she envisioned, she used her talent and creativity to make our color choices and art deco style into the artwork we wanted. She was a pleasure to work and gave regular progress updates via email.
When we received the two art canvases we were overwhelmed, because she managed to put mere wishes into our reality. Lucie's vision, talent, creativity made it possible for us to enjoy a little bit of her in our home every day.
There are so many details to take in. It is one thing to measure wall sizes, give Lucie the dimensions and then seeing the finished works in its grand perspective. All the different shades and tones with our limited color palette she had to work with. Magnificent!
It is more than I expected and make that times two pieces of art work. We are very happy and thank you for all of your hard work, you really put your heart and sole into it and it shows. Now I have a piece of yourself forevermore and we have not even met yet.
Rosemarie
December 5, 2018

Remarkable artwork by a remarkable woman! Iím very proud to display two of her beautiful prints in my home and office. Thank you for sharing your talent, Lucie. Congratulations on your upcoming exhibit. It about time the world (and Phoenix) saw more of your talent.
Barbara Cantley
August 22, 2018

Lucieís unique style immediately creates an emotional response. Her distinct geometric flair and spectacular colors are magnetic. Every time we view her art we really love the fact we see something different. Her art exudes fun, passion, love of life and energy in every piece.
Marian and Carver
August 22, 2018

Superb artist. She is a joy to work with. Very open in the creative process for commissioned art work. Love her use of colors, lines & symbols. Her art is thought provoking, uplifting & inspirational. Lucieís art needs to be seen in person to get the full impact of her creativity. Thank you Lucie for bringing joy into peopleís lives.
Rosemarie Calcat

"This painting resides on the wall beside my bed. It is the first image I
see in the morning and the last vision I see at night. Its vibrancy brings
me to life and its enigmas open up boundless dreams. This art recalibrates
my spirit. "

Holly McNally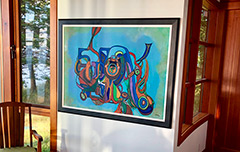 Several years ago, I had the pleasure and privilege of commissioning Lucie Marlo to create a painting for me. Her work, which she titled "Courage" was the beautiful result; and has had pride of place in my home ever since.
Whenever I look at this piece, which is often, its colors and composition evoke in me such wonderful feelings of optimism, joy and peace - which I know to be exactly what the artist intended to convey.
She has truly left a large part of her heart on the canvas with every brushstroke and I feel extremely proud and delighted to own one of her amazing, special and dynamic paintings.

Bernice Thill
Vancouver, BC

I am the proud owner of nine of Lucie Marlo's paintings. I had purchased a number of her existing pieces. After seeing how magnificent they looked in my home I had the pleasure of commissioning her for the remaining. Lucie was a wonderful person to deal with. She was to create a painting for a rather odd wall in my main entrance. I wanted something for the small space between the front door and the window above it. She worked hard to come up with a solution. The result is a stunning painting 72" x 18" which has brought life and magic to the whole house. She also created a series of smaller paintings which look perfect on a curved wall.
I really appreciate the time and love Lucie not only obviously puts into her paintings but making sure her clients are ecstatic with the final result. People who visit comment regularly on her fabulous art work. I am even more in love with the paintings today than initially which I would have thought as impossible.
Lucie was moved to tears when I told her that the primary reason for my large purchase was to leave something valuable for my grandchildren. In these unstable times art of this quality I believe is one of the safest ways to go.
Sincerely,
Pauline Porter/Levesque

We have so much enjoyed adding "in Search of Balance" to our art collection. Its cheerful symmetry brings warmth in our home, especially on dreary winter days.
Ivan and Judy Strand

Lucie's art illustrates the perfect balance between the complexity and simplicity of life. Her work reflects both her scientific background and artistic passion, where precision meets the imagination of the artist. Lucie's abstract work fills the room with positive energy, welcoming any audience. While admiring Lucie's work, one can see each of the components moving in perfect synchronicity, taking the viewer to another dimension where complex structures can be easily understood by a child
S. Curtis, Victoria, BC. Canada

"What have you done to your place!", was the opening greeting when a friend came to visit. "It's fantastic!" "It's alive, and so beautiful!" After purchasing four of Lucie Marlo's exquisite paintings, these comments are only a few that my friends and family have exclaimed.
Indeed, the walls are alive with the exceptional work of Lucie Marlo. How wonderful to have the ability to portray a passion for life that leaps off the canvass and into your heart. Lucie's paintings are my joy whether in a pensive or contented mood. Her paintings have changed my living space dramatically filling it with insightful and intricate artwork. They are a delight to come home to.
Lucie Marlo is upright, honest, forthright and my purchases went smoothly. She took the time with me on the paintings to insure that it was what I really wanted. In no way did I feel rushed and she answered all my questions in a courteous and friendly way. It was a pleasure doing business with her.
Sincerely
Valerie Armstrong

I wanted to write you and let you know I received my print in the mail yesterday. It is beautiful! The paper is gorgeous and the quality of the print is outstanding! I have already taken it to the framers and can't wait until it's ready to hang. I am so very pleased with my new print and would like to thank you. Your customer service was excellent and very prompt. I will definitely be recommending you to my friends and using your services in the future!

Thank you very much,
Jennifer Allen